From an overnight online sensation to doing 400 orders a day, averaging 4.8 star Facebook Reviews
A Case Study with Matt and Sarah
Peisley
, founders of Dollboxx
Dollboxx started as a side hustle for Matt and Sarah to fulfil their financial and career ambitions beyond working a day job. It all started in 2014, they were excited, wide-eyed, naive, and had no idea what to expect. 
They admit they had no experience and were just learning as they went along. No idea about eCommerce, never heard of the term 3PL, didn't know about Facebook marketing, and wasn't even involved in anything about fashion design. That was just something Sarah found she had a knack for.
They dipped their toes in the water with wholesaling some beach products, and six short months later, their custom range of bikinis went "absolutely crazy", recalls Sarah. And that was the birth of Dollboxx, a promising eCommerce startup backed by five figures of weekly sales.
All of a sudden, it all seemed to be easy and smooth-running, another overnight ecommerce success. However, the couple quickly found themselves working 40+ hours a week, labouring in packing orders and sorting out shipping in their garage. 
First, it was Sarah who had to quit her full-time job just to keep up with packing orders at home, then Matt taking time off the army to jump in. 

"We have to outsource this" Matt finally muffled in exhaustion, after another around-the-clock logistics workout at home. 
The couple were finally forced to address their "good problems" in logistics, and refocus their energy on growing the actual business – more marketing, more products, more sales, more customer care – the massive list of important things that was overlooked while they were consumed in packing boxes. 
The classic "working IN instead of working ON the business" syndrome most startups experience. 
It was particularly challenging to keep up with website updates and customer care, especially when Dollboxx expanded into the international market in 2015.
Their first experience with 3PL was a nightmare
In their first attempt with a logistics company, they started shipping to New Zealand and the US. Within a few weeks, customers were getting the wrong orders. There was no real-time inventory, so they were overselling without having the actual stock.
Then one day they visited the warehouse and found their stock was on the floor and the packaging was dirty. One customer bought toys, which were fulfilled in the same facility, and got their swimwear instead. Nasty online reviews and refund requests started to flood in. It was a mess that could have killed their business.
"The first logistics centre we went with there were probably more orders going out with errors than going out correct, every single day," Matt recalls.
It was reflecting poorly on their brand, too. Even though an apparent online success, at this point they were still getting 100+ sub 3 star reviews on Facebook, mostly comments on the incorrect sizes, shipping delays, and customers getting the wrong products. 
While they'd seen a massive sales increase to North America, they knew their business was in fact vulnerable, if they didn't have a consistent flow of satisfied customers as the backbone of Dollboxx. 
The whole thing could collapse in a few months simply due to bad reviews online.

So, after a pretty steep learning curve through their first six months in business, in January 2015 they found Invenco.
A simple Google search on "3PL eCommerce Sydney" landed Sarah and Matt on Invenco. They went into the office sceptical, having learned it the hard way with their first logistics company, and not sure if Invenco would take them seriously. 
Thankfully, that late afternoon meeting was more than a pleasant surprise. Sean, Invenco's Operations Manager, stayed after hours to go over everything with them. He didn't rush them through anything. Next thing you know, they were having a beer (or two) while Sean showed them through the entire warehouse explaining their processes and software systems in great detail. 
Sarah and Matt were incredibly impressed with the cleanliness and presentation of the entire warehouse, and how Invenco was patient and genuine throughout the relationship. The software systems were impressive, and in comparison to the first 3PL, it was like coming out of the 90's!
"Needless to say, Invenco was a perfect fit. And they also went the extra mile." says Matt
Because Shopify was not the go-to eCommerce of choice at that time, to bring Dollboxx onboard the Invenco team built a custom integration for them – in less than a week.
"It feels like Invenco have paved the way and created the standard for 3PLs catering to online retail and eCommerce," Sarah says. "They've grown with the eCommerce space."
"Unlike other 3PLs, they have a system where they can mix SKUs into their storage so we can have our small items with a light SKU count," Matt adds.
"They track the inventory, it's synched in real-time with our website, so we've never had any issues with overselling or returns, and they built a least-cost shipping algorithm into the system so, for example, we can provide some KPIs for shipping timeframes we expect for that customer and that order and the algorithm will pick the shipping method with the lowest cost that will meet those parameters."
From Invenco's perspective, empowering clients with real-time tracking is crucial, as the increased, extremely accurate visibility makes a significant difference to their level of satisfaction, while the number of enquiries is minimised.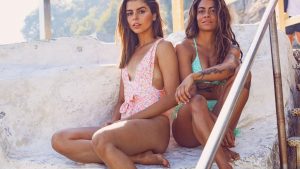 Adding a new product line led to a surprising result
Now having secured robust logistics with Invenco, and a great run with their swimwear products, Matt and Sarah decided that sunglasses would be the perfect complementary product to add to their business.
"We first brought on three pairs of sunglasses and some of our ads went viral on Facebook and overnight Invenco went from doing just our swimwear orders, which was somewhere around 50 or so a day, to 300 or 400 orders a day," Matt explains.
"But they met the demand, even though neither we nor they had any insight that our order volume was going to multiply tenfold, but they kept up – even though they had their hands full!"
Matt says the process for getting new stock in, and out, in next to no time has made a massive difference.
"When we have new stock coming in, we send in delivery advice – a spreadsheet of what's coming in, how much, and when – and then Invenco uploads that into their system.
"As the stock arrives at the warehouse they scan it in, and our stock count is updated in real-time. Our profits have increased because we can sell quickly."
"We've had times, especially with the sunglasses, where I just call and ask if they can get it in that day because we have a couple of hundred orders we want to get out."
Matt also notes that increasing their variable costs with Invenco, to reduce the fixed cost of storage has helped improve profits significantly.
Dollboxx's costs with Invenco are all directly proportionate to revenue, improving cash flow and allowing them to grow faster. There has been no hidden costs or any huge upfronts that would've hurt their cashflow.
As of 2020, Dollboxx now boasts over 3000 five star reviews on Facebook, averaging at 4.8/5 overall. 
Positive reviews go a long way. Many online shoppers view shipping as a large part of the online experience. You could have the best product in the world, but if you have to wait 2 weeks to get an item, customers can perceive the whole experience as negative, regardless of the product.
The over-the-top social proof has substantially improved Dollboxx's conversion rate, and with numerous repeat purchases due to product quality and fast shipping, Dollboxx is now building a database of lifetime customer at scale.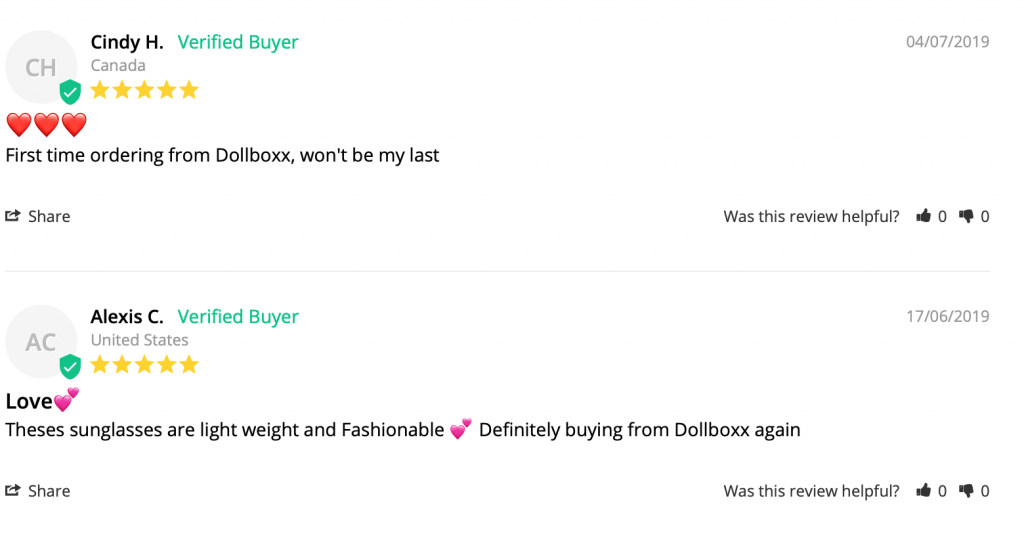 Seasonal and special sales where a large influx of orders are also non-factors now with Invenco's integration of Aftership

"One beautiful thing about working with Invenco is that we're able to automate our customer experience and basically expect a positive review days later". 
As soon as an order is shipped, the Invenco system updates Shopify and the customer gets an SMS or Facebook message that notifies them that their order has been shipped, and they get tracking updates. 
Because of this real-time inventory and reporting in the Invenco ecosystem, the Dollboxx customer service staff can proactively contact customers to address any issues before they arise.
"Invenco is just a part of the Dollboxx business now, they have delivered what they've promised – Happy Clients!" ", say the happy couple.
Matt & Sarah are still amazed at how their lives have turned around in only 6 short years
Having become an international eCommerce business selling both seasonal and non-seasonal products all year round, Matt and Sarah are extremely relieved that those early days are well behind them. 
"The reality of business and life is that things aren't always smooth sailing, but even when things are a bit bumpy, they've just supported us in every aspect of the business,"
"Invenco is so proactive that they've fixed a problem before we know about it and tell us 'hey guys, we noticed this and we fixed it', so we don't even need to worry about it,' Sarah adds.
It's fair to say that Sarah and Matt are glad they partnered with Invenco, as they not only got some extra sets of hands but extra brains as well.
"It didn't take us long to realise that Invenco is an irreplaceable asset of our company. They've made everything within the business much easier."